Online Information Session + CO3SO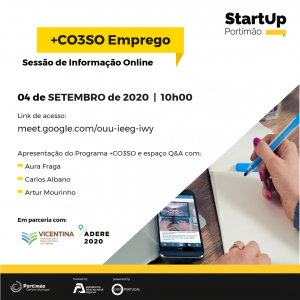 In partnership with Vicentina - Association for the Development of the Southwest, an information session on + CO3SO took place online.
The + CO3SO is a set of programs dedicated to companies, entities of the social economy and entities of the scientific and technological system to dynamize the interior area of the country, namely they can be applied in the parish of Mexilhoeira Grande, where StartUp Portimão is located. During the session, the programs + CO3SO Emprego Interior, + CO3SO Emprego Urbano and + CO3SO Emprego Social Entrepreneurship were presented. At the end there was a Q&A space.
The session was led by Aura Fraga, Carlos Albano, Artur Mourinho of the Vicentina association.